A new sprinkler design for trees and shrubs that makes watering easy, fast, and efficient.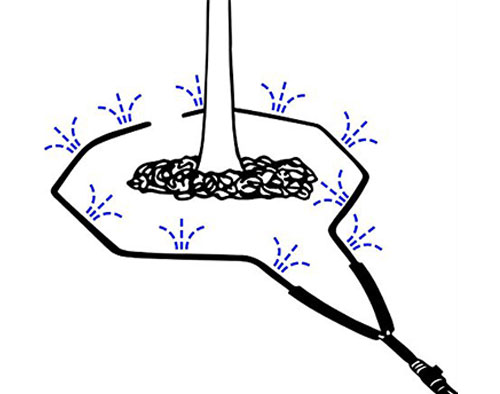 Open Ended
Easily Moved From One Location to Another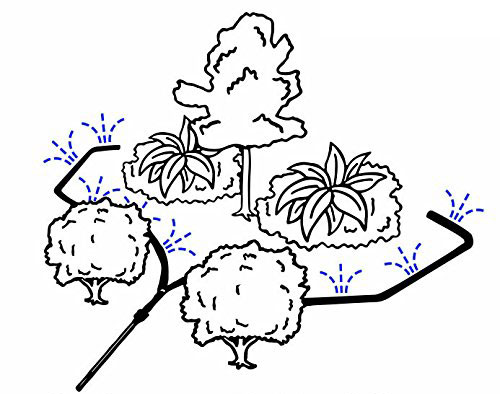 Conforms to a Variety of Shapes
For Watering Plants, Shrubs & Garden
Conserve Water Save Time 
Order your

Water

hoop 

today!
1 YEAR UNCONDITIONAL WARRANTY, 3 YEAR REPLACEMENT WARRANTY – BEST IN THE INDUSTRY
Does Not Rot or Clog – Heavy Duty Components – Durable – Built to last – Made in USA 100%
Convenient – Time Saver – Drip or Spray – Conforms to a variety of shapes – Works great with a Rain Barrel
Observe & Control the Rate of Water Flow at the Waterhoop, no need to go back to the spigot – 0 to 5 gallons per minute
US PATENT: 9,504,210 B2 – Unique and Valuable Watering Solution
*Free Shipping*
Continental United States
Don't waste water or dry your well up
"If you are concerned about conserving your water, then this is exactly what you need for watering your trees. We are on a private well and we recently had several trees planted. We ran our well dry trying to water the new plantings, and so much of the water from the sprinkler was wasted that we had to concentrate the water on the new plantings. This device did exactly that."
Jerry in Oklahoma City
Perfect! Really helps with new trees! Time saver!!!!
"We have a new palm tree plus 2 new citrus trees. As with our other trees in the past we put a hose on each side of a new tree for 40 minutes etc. This means moving the hose 3 or 4 times each tree. Tiresome to say the least. I found this and we decided to give it a try!! What a timesaver!! YEAH!! When we put it around our palm (fairly large trunk) it goes around all but about 6 or 8 inches but still it is watering around the tree. ONE TIME!! yeaH!! on the citrus trees it is the same ONE TIME. It saves us so much time. We do 3 trees at 40 minutes each whereas before we had to do 40 minutes each 3 or 4 times each tree."
Susan in San Diego
This is so easy to use
"This is so easy to use…and is can be used for either as a slow drip watering hoop or as a sprinkler hoop. A nice feature is the water control valve on the end. No more walking back to the water faucet to adjust the flow. Highly recommend this and I'm buying another one. It can easily be hung on a hook for storage, no more floppy drip hose lying around. Buy this one and save money in the long term!"
Tina in Jacksonville
I've tried them all...this one is best
"I have tried all the other "solutions" for tree and garden care. Not that I hate them all, but the Waterhoop I feel is better than the soaker hose and I love the fact you can adjust the water pressure right from the device along with the side to side adjustment is the best inventive improvement on lawn and garden products I've ever seen."
Bob in Little Rock